The Strangeness of Here
Diana cor Sha'Neen
Sometimes I feel as if I almost belong here. I draw on the memories of this body, I say all the right things, I do all the right things. I act as if I know what I'm doing. I read that in a book somewhere, fake it till you make it. That's what we do here every day. I think it's hardest for me since I come from some Otherwhere. We did get our tattoo that says our name, as close as, anyway. Our 'D'. We wear our name now. Three of us. Destiny, Diana, Dakota. It is the only place we can be who we are. In a tattoo and on the web. Here on the web we are known by our own names. Here we can be real. This is a precious thing to us, but it is not enough.

In the earth world we can hardly ever be known for who we are. It is a pain never to hear your own name. There are a few people in the Earth world who know us as a household. Blessings to them for accepting us for who we are, even though they cannot see us as individual. They know us by characteristics. They say it doesn't matter that Des doesn't talk. They say she talks with her face, her face is alive with expression.  People know what she means before she writes it down. Some people can tell by a change in the eyes. We all have different mannerisms. But no one can see that I am tall and lean, that I have long black hair, that my hair is usually tied back with a leather band, or else braided with beads made from bone and with feathers. No one can see Kyra Da'Yel running across the Plains with her wavy blonde hair blowing behind her like a flag. No one can see Destiny Si'Parra with her snapping brown eyes and her brown braids. No one can see Dakota dancing the dance of pain, of joy, of grief, stamping out the beat of those feelings she was never allowed here. No one can see us for who we are.

In the Before no one wanted to be known or recognized; it usually meant pain. It was best to be as invisible as possible then. But we are in a new age here. We are different, we are in a different place. We are a stable household. Sure, we still deal with shit from the Before, but not often and always with success. We have people here we talk to, talk things through, talk things out. People who matter to us, people who guide us through the maze of the Earth world, people we trust. Otherwise they wouldn't know about the household at all. But it feels dangerous for too many people to know about us, people at work, people who might see us as crazy. It is a worry. I want to be known for who I am, yet I am afraid it will get back to work. It is hard to be known by one name socially and by this body's name in formal situations. The name this body goes by in the Earth world is merely a title.

Sometimes I just want to scream. I want to just get it all out in the open. I am a warrior of the Ma'Harrat. We are a proud people. Hiding who I am feels so wrong, yet I cannot out the household. Such a funny term. It is a term that comes from the body, from knowledge that is in this body's memory. Another odd thing, to have access to this body's general memory, yet all my memories from home are intact. They are what makes me Diana. Hello, I am not from your world. That sounds crazy even to me. Yet it is a truth. It is a hard truth to live with every day.

I was talking to the child of this body about this problem. I asked her what it would be like for her to be called Jane or Sue, all the time, when her real name is actually Mary. I do not like being invisible. I hate it. We were with a friend the other night and he called me by my whole name, Diana cor Sha'Neen. He remembered my whole name. It is a gift every time I hear it. It is my name, it is my mother's name, from whom I came. It is my honor to be called that. It is who I am. I never hear it here in daily life. I always hear it in secret. I feel marginalized.

I do not mean to make home sound like a place of no problems. Of course there are problems, but they are more basic, like getting enough to eat, staying warm in winter, being safe from the man tribes. But at home I am someone. I am known as who I am. Here I am known by some other name. Although I am very real I often do not feel real here. I feel like a lie. This body is an interface between this world and my world. We all come through the interface and interact with this world through the vehicle of this body. This body comes ready made with an identity. I understand that. But knowing this does not solve the problem of identity we all have to deal with. I have no answers. I wish I did. It is the will of the Mother, of Ta'Vela, that I be here. Her ways are mysterious ways. Perhaps it is not for us to understand. Perhaps it is for us to do Her will. Perhaps that should be enough. But it is hard, it is hard....

Diana cor Sha'Neen
of the Ma'Harrat,
of Otherwhere

Visit Phoenix House's home page

We are not in touch with Phoenix House at this time.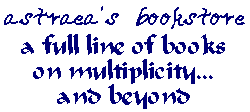 Email | Guestbook | FAQ | Astraea home | Multiplicity | Religion | Politics | Anti-Psych | Anti-FMSF | Silly