Multiple Personality:
Resources, Chat, Therapy Links
Social Networking By, For & About Multiple Personality
Email Lists and Online Forums

"Many multiples or people 'diagnosed' as 'suffering' from Dissociative Identity Disorder (DID), or Multiple Personality Disorder (MPD) have decided to change the way they are viewed, treated and labled. We no longer accept being discouraged, even inhibited, from being the people we are, hiding who we are out of fear. No longer do we accept the medical model opinion that being plural/multiple is a disorder....
This list will encourage and discuss, support and act to change society's idea that we are disordered, but rather are healthy individuals that share a single body." A list that often goes quiet, but sometimes has lively discussions and ideas... Singlets are welcome. The official newsletter is Plural Voices (PDF) Doesn't update very often, but feel free to contribute.


The Multiplicity Community at Livejournal is not very active any more but is still around.

There is a plurality forum for respectful discussion at Reddit's /r/plural.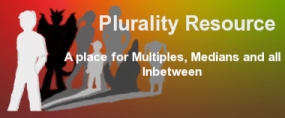 Nsashaell, Branches, Faith Formation & Chimera House will eventually have a library of healthy multiplicity resources on pluralityresource.org: meanwhile, feel free to sign up and chat. "Our hope is to provide a safe place for all types of plurals, including fictives, to discuss topics and support each other."

Pagmies' Plurality IRC chats (below) live on.
A lot of the old elists have closed down. Dark Personalities is still around although its companion website is not.
Livejournal Interest: Multiplicity A lot of multiples have their webdiaries on Livejournal. If you do, you can put multiplicity on your Interests to be added to this list.
---
Chat Here!
These chats are owned and operated by other groups; we do not own or run any chats.

IRC #plurality Web Access at http://cgiirc.synirc.net/ and enter #plurality or #pluralityadults in the "Channel" slot. (Open discussion of multiplicity, not MPD or DID or abuse-survivorship oriented.

You can also use an IRC program -- we recommend

or

.
IRC #livingplural Web Access at http://cgiirc.synirc.net/ and enter #livingplural in the Channel slot. "Safe base for any plural, otherkin, singlet or various allies." Extra rooms are #triggerytopics, #littleroom and #darklings, which should be self-explanatory. If using Trillian or Pidgin, connect via irc.synirc.net and port number 6667, then type in /join #livingplural or whichever room you are joining.
SANCTUARY: SAfe Network Community, The Underground Abuse Refuge. This is a survivor chat. Begun as an online forum on spousal abuse, it's open not only to all abuse survivors but to friends and supportive family. It is run as a MUD (Multi-User Dimension), and is essentially a very large, complex set of chat rooms and bulletin boards. SANCTUARY is and has always been open to multiples.
Use a telnet program such as BBSFox to connect directly to Sanctuary.


This telnet address is kept current.
---
Zines

By Kerry Dawkins of Plures House. Print editions are also available, b&w $5, color $10. To buy a copy of 'Loud & Clear', just click here.
L.B. Lee group, Healthy Multiplicity have many comics zines along with vital information. This one is active and frequently updated.
---
Podcasts

Multiplicity 101 Podcasts -- The first podcast on the internet by multiples, for multiples!! Run by the Feathers system on behalf of Plural Activism, featuring interviews with multiples, singlet allies, medians and other interested parties. This is a free podcast and you can subscribe to the Multiplicity 101 Podcast by clicking here.

Better Half: Multiplicity Jim Bunkelman speaks with NPR's Snap Judgment about his loving relationship with his late wife Rhonda and her group.

Redwoods of the Inworld KCRW's Here Be Monsters, a podcast of unusual and outre realities that run just under the consciousness of ordinary life, gave a tape recorder to a multiple personality group and let them record their daily existence.
Resources
Astraea's Bookstore Our reference library. We try to list every book ever published on multiple personality, whether or not we agree with'em. This includes books on MPD/DID, multiple personality disorder and dissociative identity disorder. You can buy books right off the page through powells.com.

The Layman's Guide Is Complete. This does not mean it is static. You can still contribute. This is not just a FAQ, but an extensive booklet on the subject. If you want to contribute to the Guide, click here to use our mail form. If you write using our mail form you can be anonymous. You do not need to know HTML to contribute to the Layman's Guide.


Heritage site, for an activist group no longer active although updated occasionally. Dedicated to improving public perceptions of multiple personality, Pavilion members worked actively for change through a variety of publicity projects. Most of the action these days is on the Pavilion Hall Livejournal If you want to help in an active group, join Plural Activism.


Constantly updated so keep checking back.

Living Plural: A Guide to Multiplicity Several groups participating in a sort of "Ask a Multiple" thing, a FAQ, resource pages, and a Living Plural Chatzy.
Another list of links to pages on multiplicity along with some info connected to transgender issues is at Healthy Multiplicity Dot Com run by LB-Lee. If you feel like you are both singlet and plural, that you are "multiple-ish", "not multiple enough", or in an in-between, ambiguous state, try reading these articles about being median at Pavilion and see if they describe your situation.
Chrysanthème is shut down for good. It will eventually return on a mirror site.


Resources by and for autistic-spectrum people. Don't fall for disempowering bullshit from Auti$m $peaks - come here and speak for yourself.

Feel you really do have MPD/DID, multiple personality disorder
or dissociative identity disorder?
If you are multiple and you find that the traditional trauma/dissociation/splitting, therapy-based model is helpful, and does reflect who you are:
Abuse-Trauma Therapy and Recovery:
Find A Therapist
If you are looking for a therapist in your area, the International Society for the Study of Trauma and Dissociation has a database of trauma recovery/PTSD/MPD-DID/dissociative disorder therapists.

Other support sites include Rainn and Survivors of Incest Anonymous: if you were abused by clergy, go to Snap.

All back issues of the Many Voices newsletter are now available as free PDFs, there will be NO new issues BUT two new online support communities.

Click here to read about Many Voices, A Tribute to Lynn Wasnak, and New Resources for Abuse Survivors

Holding Space -- "for people still waiting to feel like someone understands them and they are not alone... a place where we can exchange ideas, talk openly about trauma, PTSD, and living with DID without the worry about security in social media" (so it will NOT be on Facebook!!)

A Life After Trauma -- "listings of online support groups, meet ups, conferences, helpful websites, phone apps, books, blogs and tools for you to use to begin to move past your trauma."

Contact Information: lizabeth@alifeaftertrauma.com - A Life After Trauma / 411 Walnut Street #13101 / Green Cove Springs, FL 32043

Founded in 1989, Many Voices was an independent newsletter written BY (not just for) people recovering from child abuse or trauma, dissociative disorder, PTSD or trauma -- multiples and singlets. It was the flagship publication for the voices of abuse survivors and multiples to speak up and be heard.

Lynn's daughter Diane says: "In January 2014, the following was found in minutes from a Board of Directors Meeting dated 9/20/2011. Lynn was nine months into Chemotherapy at this point.

"'ISST-D Liaison. I already contacted our liaison at ISST-D telling her to expect that we will have "contingency plans" to discuss with them.

"'I have had excellent contacts with them since MV began, and if we are not able to keep MV going, (when I am gone), this is the place I want to "take over", even if all they do is make back issues available on the web in perpetuity.' (THEY HAVE! Back issues free online now!)

"Many Voices issues are now the property of The International Society for the Study of Trauma and Dissociation."

Leave a comment about Lynn at the Awareness Center or sign Lynn's memorial guestbook.

Multiple Personality Gift This is the complete text of Jacquelyn Pia's "Household Management" workbook. Good for survivor multiples in crisis with bad management, no management, system in chaos, etc.

Sidran Foundation A good source of primarily mainstream, dissociative disorder, MPD/DID material.



Naomi Rhode, Sybil's closest relative,
verifies her story
Nancy L. Preston - Sybil's Friend
Interview with Nancy Preston


Free Newsletter Back Issues!
Sign up HERE for email updates



---
Truddi Chase (& The Troops) died March 10, 2010.
Click here to read their obituary and sign their memorial guestbook.
Lynn& Wasnak 1945-2013
Chris Costner-Sizemore (Eve) died July 24, 2016. Farewell to a very brave and gentle lady.
Click here to read about mental health professionals calling for major reforms to the DSM-5... or even to abolish it!
home : faq: contact us: glossary : page top